"Traipse to Boxing Day" Board Game
---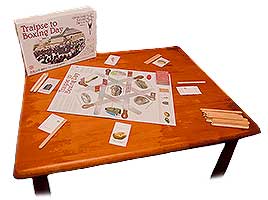 Item code: GSD004
You are the Captain of the Grenoside Sword Dancers. You must be ready to dance on Boxing Day morning at 11am, but all the things you need - swords, clogs, fiddle, uniform - are scattered all over Grenoside village!
Who will be the first to 'traipse' around the village and collect everything needed for the dance, and arrive at the traditional Boxing Day spot outside The Old Harrow Inn at 11am?
A game for 2-6 players, "Traipse to Boxing Day" is based on the Grenoside sword dance itself. The board is shaped like the distinctive sword lock used in the dance, each location you must visit is a place in Grenoside village where the team have danced in the past, the counters are based on uniform designs through the ages, all the things you must collect are used in the real dance, and each of the game cards refer to positions or song words that appear in the dance.
Join in the fun of the dance!
Size: A3 playing board
Price: £12.00


---