| | |
| --- | --- |
| | Mike Steel - 1953-2011 |
---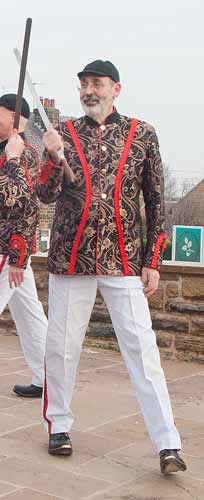 We have the sad news that one of our number, Mike Steel, passed away on 16th July 2011. he had been suffering from cancer for some time, and died peacefully at home surrounded by his family. His funeral was held on Tuesday 26th July, and we paid tribute to him at the service with a salute of swords and the singing of 'Tantiro' from the Grenoside Sword Dance. This verse concluded with the fitting line, "March on ye brave soldier away".
Mike was still an active member of the Grenoside Sword Dancers, having danced with the team for around 10 years. He took part in several dances during our annual Traipse in January of this year. Mike was an excellent dancer, and led many practice sessions well into this year, helping teach the dance to our newest recruits.
Mike danced with many other teams throughout his life, including local teams Sheffield Giants and Sheffield City Morris, and also regularly played saxophone for Mortimer's Morris and Lizzie Dripping. He also danced with Mr Fox (the first team he performed with in Sheffield) and helped in the early years of Triskele Rapper and Boggarts Breakfast.
Our thoughts and best wishes are with his wife Brenda, and daughters Emma and Liz who nursed him through his last days.
Mike will be sadly missed by us all.
---