| | |
| --- | --- |
| | High Green Miners Welfare commemorative event |
---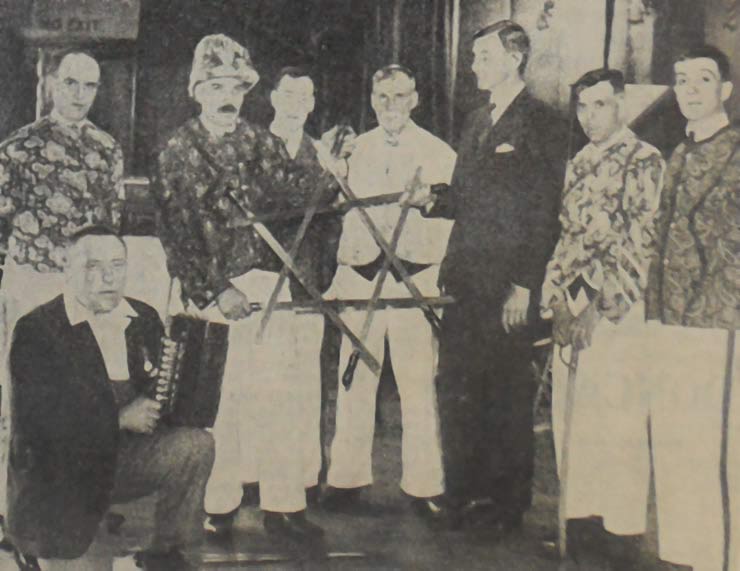 On Saturday 31st May, we will perform at High Green Miners Welfare Hall, Greno View Road, High Green, to celebrate an event that took place there exactly 80 years previously. All are welcome to attend the event which will take place from 3pm-5pm. Refreshments will be available.
On that day in 1934, the team were presented with a new set of swords by members of the English Folk Dance and Song Society (EFDSS). The old swords were handed over to the EFDSS to be placed in their museum, but were sadly destroyed during the Blitz. The new swords that were presented that day are still in regular use by the team.
Prominent local figure Col. Mackenzie Smith was present at the 1934 ceremony, and remarked that he had seen the Grenoside dance performed for 60 years - with some of the men still in the team as he first remembered it. The event was reported with an articles and photos in the Sheffield Daily Independent newspaper.
We are also helping to promote the High Green Miners Welfare hall, which has been sadly underused in recent years. Many other local groups will also be in attendance offering their support, including High Green in Bloom, Heritage High Green, and High Green Primary School.
The event on Saturday is also part of our commitment to the Tour de France Cultural Festival - our "Greno Depart" will see us perform at a number of places along the Tour de France route in coming weeks. We will also perform at the Devonshire Markets in Sheffield at around 11am on the morning of Saturday May 31st.
---